Saturday, May 31, 2003

Saturday is my favorite day.

Don't you love it when you get enough sleep on Friday night, that you wake up early on Saturday morning and realize that you have the WHOLE DAY ahead of you, to do all the things that you need or want to do... I love that. It's the little things that make me happy, always has been.

Have you ever met someone who, the minute you started talking to them, you just felt that this person was destined for something great? I met a little boy last night who is going to a special school next year for students who are interested in arts and media, an academy of sorts. What a great opportunity for him! And how wonderful that, at such a young age, he has a passion. I asked him what he wanted to do, you know, when he grows up... he wants to direct and produce movies. This kid will be famous one day, mark my words. He's got more drive and passion than most adults I know. And what a great kid to talk to.

Do you know who you are?
Do you know what you'll stand for, what you won't tolerate?
Do you have convictions?
Do you like who you are?



posted at 9:24 AM
Friday, May 30, 2003

Random Stuff. It's Friday.

I like to look at people in their cars when I'm in traffic or at a stop light -- I'm always curious about what they're thinking, or sometimes, what they're doing. Where are they going? Do they live close by? What kind of phrase is "close by?" Today I saw some of the most interesting characters on the way to work. Fun stuff.

It's Friday. And as Tom said, this has been the longest short week ever. I'm exhausted and not wanting to do any work today. Wish I was playing golf, sleeping, reading, having a drink... anything but working. My guess is that everyone feels that way. I'm certainly not alone in the "My God how many hours until the weekend starts?" category. For those of you who have summer hours, it's closer for you! Start the countdown!

I have determined that the more stressed I am, the more vivid my dreams are at night. I have had some really good ones this week. My friend Tiffany bought me a new dream journal, and I'm filling the pages very quickly. Funny how friends are -- she wants to read it next time she comes in. Only your friends take that much of an interest in your subconscious life.

I am constantly challenging myself. How quickly can I get "X" done? How long can I go without "X"? By the end of the week I will have accomplished "D, Y, and Z" (and I will put if off until the last day to make it even more challenging). Problem is, lately my challenges are in the little things. I haven't challenged myself on a much larger scale in a while. Maybe this new job was the last one... but that's it... and it's not like I didn't take this job, for the most part, to flee from the Base. How do you challenge yourself? And in my case, how do you stop? I think these little daily games are wearing me out. Who am I kidding? I'm compulsive, I can't STOP!

I'm going to toast my Pop Tart.
Sucks not having Breakfast Club every Friday on those days when it's not your day. :)



posted at 8:19 AM
Thursday, May 29, 2003

Client Work

Is goooooooood.


posted at 11:17 AM
Wednesday, May 28, 2003

Client Work

Sucks.

posted at 11:42 PM

1 Milisecond of Sleep

Don't you hate it when you wake up in the morning, and it feels like you just laid down? That's how I feel today. Tired. Another earl morning meeting.

I feel like I don't have much to offer the blog this morning, my brain is still asleep. Some things that have been walkikng around in my mind over the last 24 hours...
- In the media (TV news, newspapers, etc.), I don't like the term "businesswoman" (or man). "She is a very successful businesswoman". What does this MEAN exactly? Couldn't that mean 100 different things? I think it's what it DOESN'T mean that they're trying to communicate.
- I had a dream last night about the horse races. I'm ready to go. So much fun.
- Some people just like to hear themselves talk. Once you figure this out about someone, conversing with them isn't as painful.
- It doesn't matter if your workplace allows you to wear shorts everyday if it's freezing ass cold in the building.
- I eat when I'm stressed, I get the munchies. Therefore, I estimate that I will weigh in at about 375 lbs. by the time I reach 45 years of age.
- Rebates are a lot of work. What do you think the percentage is of people who don't ever take the time to make the copies, fill out the forms, send it in, etc.?

That's all I've got for now.
I need some coffee.
Mmmm... I can smell the Whole Foods Allegro Blend in my kitchen now. Yummy.

Good day.

posted at 6:47 AM
Tuesday, May 27, 2003

What is wrong with Blogger?

My comments section isn't even showing up, and I can rarely get the page to load.

posted at 12:37 PM
Monday, May 26, 2003

Yes! I'll buy ANYTHING! Please tell me about your product!

So I went into Best Buy this afternoon to buy a little something -- just make a minimally invasive purchase, perhaps just a little laptop or maybe a bottom-of-the-line desktop computer... a little somethin' somethin' to use at home so that I don't have to tote my very heavy work laptop to and from work every day. I mean, it IS Memorial Day. There's always a sale!

Well let me tell you my friends, I AM A SUCKER.

$1500 later, I've now got a nice desktop computer, complete with a flat screen panel monitor, cool speakers, doubled the RAM (what the..? Why did I DO this?), a PRINTER which also functions as a copier and scanner (and let me tell you, I do a LOT of scanning and copying... SHEESH!), a 3-year service plan, a really nice surge protector, and some other stuff I haven't really figured out or identified yet.

I would have bought bottled birdshit from that man! What is my problem???? Am I that much of a pushover? (DO NOT answer that.) Does anyone need some... COMPUTING done???? Can I start charging someone for my time on this thing? All these wires... I'm not sure, but I think I can launch a space shuttle from underneath my desk now.

I guess it's about time that I own a computer, though, given that I'm late-twenty-something and it's 2003 and all...
I did install it all (sans copier/printer/scanner combo) by myself, though. What a feat! I didn't have to call anyone! I'm such a big girl!

I do have concerns that this computer might just be the death of me. Or at least the expansion of my waistline. I'm sitting here, in all of its magnificence... looking at the laundry that needs to be done, the boxes that need to be cleaned up, etc., and CANNOT pull myself away. I'm in big trouble. Why is the kitchen so far away?!?!???

I expect that everyone will be in a shiny, happy mood tomorrow. Four day week!

posted at 8:24 PM
Sunday, May 25, 2003

Thunder

I swear in the short time I've been alive, I have never heard thunder like I heard last night. It was frightening.
Be careful this weekend on the wet streets. I almost had a mishap this morning when I tried to brake at a stop sign, and my wet shoe slipped off over to the gas! I punched it, and barely missed a mini-van, which honked at me and scared me probably as much as I scared them. To the owners of the green mini-van traveling down Summitview this morning, I'm sorry! It wasn't my fault! Stupid flip-flops...

Yesterday was quite uneventful for me -- I slept all day long. Much needed rest, I guess. Watched a couple of movies with the family last night. Today I will be productive.

posted at 8:49 AM
Saturday, May 24, 2003

Memorial Day Weekend

Be careful, be good, be mindful.

posted at 11:29 AM
Friday, May 23, 2003

Annika Panicka.

Okay. If you're stuck at work and you want to watch her, go to www.pgatour.com, click on the free day use of the TOURCast program, and watch her ball, every stroke. She's on hole 7, follow her group. It's pretty freakin' cool

Mom, light a dang candle for her. She needs a few birdies!

posted at 3:27 PM

Annika uses a Trusty!

It never fails... when I play golf (always with men), I always get a hard time about my fairway woods and how often I use them. But now that I know that ANNIKA is using them...! I'm very excited for her. She played well yesterday! She is doing great things for women and the game of golf, and I'm very excited to see how today turns out for her. I just wish she had an earlier tee time... oh well, that gives her extra time on the practice greens. :)

Not sure yet how I'm going to spend my weekend... and I'm very excited about that. Every hour of this week has been planned, scheduled, busy. No planning this weekend for me -- I'm thinking of not even wearing a watch.

Does anyone know of anything fun going on this weekend?
(Jonathan -- I know you're working, honey, and I'm sorry.)

Smile! It's FRIDAY!!!!!!!!!!!!!!!!!!!!!!!!!!!!!!!!!!!!!!!!!!!!!

posted at 9:04 AM
Thursday, May 22, 2003

Busy morning.

It's almost the weekend.
That's all I can think about!

Do you know what really makes you happy?
Spend some time thinking about that today.

posted at 8:40 AM
Wednesday, May 21, 2003

My mother...

...makes me smile when I'm having the worst of days. While instant messaging with her this morning, she told me a story that made me laugh, and I needed a good laugh so badly... You have to know her (and this crazy lady who lives across the street from her) to understand why the story I'm about to paste below is so funny, you have to be able to "hear" her telling it. Oh well, in this forum, this cut and paste is just going to have to work.

Ruth Ann:
my trailer trash neighbor across the street invited me over for a shot of tequila yesterday
she was out in the yard unloading groceries, as was I, and asked what i was doing. i told her i was about to take a bath...that mike was coming over
well, she went inside her house, came back out, and said, "hey, ruthie, how bout coming over for a shot of tequila before your bath?"
i told her i had already started a drink...and that tequila made me crazy
then.....
she picked penny up and wanted to GROOM her
(Penny is my mom's Yorkie, you've probably heard me refer to her before as "Poop", her other name.)
i said, "do you groom dogs?"
and she said, "OH YES!"
i know, i know...i lead such an exciting life...


I'm very easily entertained. But this is funny stuff.
I will add it to my list of family stories that will go into the book that I'll never write someday.

posted at 9:46 AM

Hello. My name is Lauri, and I have OCD.

I like my space.
I like doing things my way.
I like routines.
I like my time.
I like schedules.
I like order.

This is a problem.
To some extent, I've always been this way.
But it's getting worse. At home, with friends, at work...
Perhaps I need medication.

posted at 8:45 AM
Tuesday, May 20, 2003

It's a Comment Extravaganza!

Make time for fun at work. It makes the day go faster and you won't hate your job.
Here endeth the first lesson.


posted at 9:02 PM

It's raining, it's pouring, the old man is snoring...

I love rainy days... WHEN I'M AT HOME! I hate being out in it, though. I hate driving in it. I hate the 45 seconds between getting out of your car and into your orthodontist's office, or into your workplace. I'm sure we need the rain, though, so I'll start thinking happy thoughts about it. But I tell you what, I'm not happy with what it does to my hair!

What a busy week this will be for me -- I've got company all week (coming and going), and obligations every night until Saturday. Usually, I like being busy, having things to do... when they're things that I WANT TO DO. Yeah, I'm selfish like that. So sue me. I just hope this week ends on Saturday with Annika playing at the Colonial and me there watching. :) She's my girl!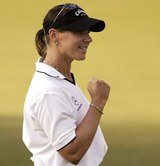 Now I've got to get to work.


posted at 10:55 AM
Sunday, May 18, 2003

She's into Triangles and Shit...

Love the weekends...

Friday
Came home from work and watched TV, did a little reading. Planned on resting up for Saturday's festivities, but ended up staying up until about 1:30 doing I don't even remember what.

Saturday
Eye doctor appointment. Different doctor, same office. Have the wrong contacts (given to me by first doctor in the office) which are making my eyes freak out on me. Put in the old contacts and headed to Maili's. We got ready for the Byron and started planning the evening's activities. Headed out around 11:00 and arrived at the stadium parking lot around 11:30. Cold. Wished we had a jacket. Walked a mile, then got on the bus (did you know there are gag bags on buses? Our seat didn't have any, but there was a nice stain left on the wall where someone had obviously needed a bag at one time...nasty.) Got to the course and started what ended up being a 12 mile walk in non-walking shoes around the tournament. The set-up of this tournament was terribly confusing. Thankfully, the weather turned from cold and windy to hot around 1:00 -- lots of sun which changed the course of outfit preparation for the evening. (Such stress.)

Basically, we spent half of our time looking for our friend in one of the corporate tents (never found her) and looking for Phil (never saw him). We did stop for a while to watch Corey Pavin spend a few minutes between holes with his wife and child (stalkers), and watched Justin Leonard tee off (hooked it) and later saw him on the practice putting green. The other half of the time we spent drinking in the pavilions (can't drink anywhere else), and finding the air-conditioned port-a-potties between pavilions. The last two hours of the day at the Byron were spent with three guys who so graciously let us sit at their table in the last pavilion. Beau, Frank, and Greg (we think that's his name) kept us sufficiently entertained and laughing -- it's fun to find great chemistry with strangers. Tried to meet up with them later that night, but Greg frustratingly spent his evening playing wingman to Frank, who was on a date with a girl hopefully not-so-interested in geometric shapes and shit.

Sushi at the Blue Fish with my new favorite wine. Then off to wine flighting at Cru Wine Bar. Good times with good people who are good friends.

Sunday
Shopping.
Lazy.
Out of coffee and milk, so must run to the store for Monday Morning Survival.



posted at 10:03 PM
Friday, May 16, 2003

A Perfect Day for Bananafish

I need a beach. I need to live close to water.

Today is moving so slowly. Except for the lunch hour, which passed in two seconds.
I'm counting down the minutes until the weekend begins.

Catcher quote of the day:
"I think if you don't really like a girl, you shouldn't horse around with her at all, and if you do like her, then you're supposed to like her face, and if you like her face, you ought to be careful about doing crumby stuff to it, like squirting water all over it. It's really too bad that so much crumby stuff is a lot of fun sometimes."

posted at 1:57 PM
Thursday, May 15, 2003

America the Comfortable

Just got in from a class that I'm taking at my church. It's late because I volunteered to take a priest from Africa who is visiting our church back to his temporary apartment downtown. It was a long ride to his apartment, therefore I had the privilege of some long, good conversation with him. We talked about a variety of things -- his family, my family, where I live, where he lives (Kenya), golf...(my clubs are in my car, so he was asking about the game. I failed to mention to him that I, of all people, should not be the token American to explain the game of golf to him, as I am certainly not the resident expert... but I digress...)

Coincidentally, the idea of "the American Way of Life" has been heavy on my mind for the past year or so, as I'm sure it has for many US citizens given our recent past... So as the conversation went along, it became even more obvious to me how convenient my life is compared to his -- or how comfortable and lazy Americans are in comparison to people living in other countries, or Africa, in this instance. What we consider "important" in our lives is unthinkable, unfathomable in his. He walks everywhere he goes (miles at a time). He takes care of and provides for his family (I'm talking extended family, not just his wife and children) as if it is his duty. He is thankful for his education. Those around him would have an easier life if only they had a bicycle...

So as we're riding around in my air-conditioned, much more space than I could ever need, insured, tank full of gas CAR, I'm explaining to him what would happen if I had a flat tire. Well - I'd call my 24 hour roadside assistance number and have them come change the tire, of course! (Or bring me gas, or get my keys out of my locked car, whatever it is I need them to do.) "What if you don't have your mobile phone?" he asks. "Well, first, I'd always have my cell phone." But if I didn't... "I guess I would walk to the nearest phone... and call the 24 hour roadside assistance number." Then he expressed concern about me walking alone in the dark, late at night, to reach a phone. So I explained to him that WORST CASE SCENARIO, I'd just try to fix the problem myself (knowing damned well that I wouldn't have a clue where to start.)

So I sat there, completely humbled this wise man's presence in my gas guzzling SUV -- this man who will never have the luxuries that I (don't even acknowledge that I) enjoy day to day, wishing I could be more like him but knowing myself well enough to know that I never could be (at least that's what Mother Culture has taught me.) In the LEAST, I'm happy to have him as my friend. I'm blessed to have been able to learn with him and spend time with him over the past weeks. He'll be leaving in June. He asked me for my address and phone number so that we can keep in touch. I hope we do... but if we don't, I am thankful for what he taught me and the mark he left on my life. Thanks, Father Joshua!

posted at 10:56 PM

One Woman Walking Medical Phenomenon

If it weren't for my stupid jacked up right eye, I'd be at the Byron all day on Saturday (thanks to Maili who always seems to have a way of making things happen! Whoo hooo!) But I must go to the eye doctor (again) first... then let the spectating begin!

Happy day!

posted at 3:54 PM

Say what you mean, and mean what you say.



posted at 9:05 AM
Wednesday, May 14, 2003

I found my swing.

I have no idea how, but I found it. Yesterday was my best golf outing yet! (Well, except for my big money win last summer...) My drives were long and straight, and my chipping was excellent! My game has taken a 180, though, because my putting and fairway shots were really off. Oh well. You can't have it all, I guess. If I did, I'd be playing in the Colonial next week. ;) Speaking of... my sister has an extra ticket! And I cannot go! I have to tell you that I'm very upset about this. I'm not one to play "sick" -- but I might have to learn how to hookey for my girl Annika.

I slept really well last night for the first time in a very long time. I'm not tired today. I've been having very interesting dreams over the past few nights, but I'll leave the re-cap of those to my dream journal that the entire world DOESN'T see... I am finding that when my mind is at rest (when I'm not working, or having a relaxing week), I don't dream as much. When my mind is active, my dreams are more vivid and detailed. Why do we dream what we do? Why do some people dream more than others? Or why do some people never remember their dreams? And why can I remember mine when I get up in the morning... think about them in the shower... make coffee... sit down... and lose them? Dreams are very intriguing to me for some reason, maybe because mine are so wacko. Maybe I'm a crazy person. I'm definitely a crazy person.

I love meeting new people. They have this clean slate when they think of you, except for their first impression, I guess. They don't know about any of your hang-ups or other strange traits... and you can totally manipulate their view of who you are! (Just kidding, I would never do something like that just to see how far I could push it...)

I hope that everyone has a WONDERFUL day. For real.

posted at 9:19 AM
Tuesday, May 13, 2003

hy·po·chon·dri·ac

That's me.
Sat in a meeting with my legs crossed yesterday for a long time and my two middle toes went numb. Thought I had Deep Leg Vein Thrombosis.

posted at 11:20 AM
Monday, May 12, 2003

My mouse doesn't have a ball.
The floor is shaking.
I'm actually playing golf tomorrow with two guys on my team.
I have to go shopping.
I have to hit balls.

posted at 11:00 AM

I'm going to start raising hogs.
My brother flew to Virginia last week to spend some time with my dad's two brothers and their wives... and also to bring one of them back to Mineola. My Uncle James and Aunt Mary have been "keeping" my Uncle Frank and Aunt Barbara for the last several years at their home/farm in Virginia. Uncle James and Mathew drove them back to Mineola (with U-Haul full of crap) on Friday, so I got to spend some QT that was very overdue with them. Growing up, we didn't spend that much time with my dad's side of the family, which now that dad is gone, I really regret.

My Uncle James looks just like my dad. It was so eerie spending time with him this weekend -- he talks like him, acts like him, even wears the same cologne that my dad wore -- he smells like him! They have the same arms, hands, mannerisms... it kind of freaked me out. But in a good way. He told me all about his lucrative HOG FARM, which fascinated me. He even explained to me what it REALLY means when I buy "organic" meat! He told me stories about my dad, his mother and father, growing up, etc. Stories you want to write down so that you don't forget them.

Aside from all of that, I think my mom had a good Mother's Day. Lots of family time this weekend, felt good. Mom, Holly and I went to see "It Runs in the Family" with Kirk and Michael Douglas. It's a rental.

I had strange dreams last night about my friends at Targetbase -- REALLY strange. Of course, they're recorded in the dream journal, just in case I ever decide to have anyone analyze them. I'd really like to know what makes me dream the stuff I dream...something else for me to over-analyze.

Now back to work. I'm meeting my clients today for the first time -- we'll see how that goes. Man I just LOVE client work! :|

Have a great day everyone!



posted at 8:28 AM
Friday, May 09, 2003

Oh my goodness I have a computer!

And it's 3:17... that means it's 17 minutes past my leaving time today! I better get out of here.

Everyone have a wonderful weekend, and if you're not putting out the effort to go see em, call your mamas! Send them flowers. Tell them how much you love them. They're not here forever. One day out of the year devoted to the person who brought you into this world, cares for you, teaches you, listens to you, loves you -- the least you can do is spend some time with her. There's my soapbox. Now I'm getting out of here to go see my mama!

To the Base people -- I miss you terribly.

posted at 3:24 PM
Thursday, May 08, 2003

Oh yeah. Couple more things.

- I will join the herds of home-internet-surfers (as opposed to those who only surf at work on The Company Dime) next week when my "Home Portal" arrives for DSL. I hope I know how to hook the damned thing up. If not, one of you readers is going to have to come over and do it for me.

- I'm reading another very good book. "Raise High the Roof Beam, Carpenters and Seymour, An Introduction" by my all time favorite author, J.D. Salinger. There really is no better author in this world than Salinger. I'm willing to argue this with anyone (you must have read his books before we begin, however...) This recluse/genius/whatever you want to call him just speaks to me for some reason. And to tons of other readers. Try him if you haven't. Try ALL of him...it won't take long.

- I'm about to get kicked out of "the business office". Such an interesting name, considering the fact that this room doesn't have a printer, phone, or anything to write with or on.

- Rumor is that I'll have a computer tomorrow at work. :D

posted at 5:29 PM

O.R.I.E.N.T.A.T.I.O.N...

Hello my people!

I feel like I've been gone forever. And it's been two days.

Still no computer at work. Someone forgot to put in a request for the computer when they requested the phone and everything else. Hey, the longer I don't have a computer, the longer I just sit at my desk and walk around and ask a lot of questions...no real work yet! I did talk with my counterpart on my new account yesterday, and he really feels that we should talk work over a game of golf next week... the weather is just too nice. I like this guy already!

So far so good. The people seem really nice and the office is extremely laid back. Saw one guy with a T-shirt, shorts, and flip flops on yesterday. Just my kind of place! How many days do you have to work somewhere until you're no longer "the new chick" and you can also start wearing your shorts and T-shirts? Man, do I have the perfect wardrobe for this office or WHAT? I'm so excited.

We'll see how long the honeymoon lasts... I miss my friends terribly, though. Sniff, sniff...
Gotcha! You know these tear ducts don't work! Suckers!

Okay. I'll post more when I have more time
Just wanted you to know that I'm alive. And reading all of your hilarious comments. Next time, put your name by your comment so I know who you are!

Oh yeah -- I went bowling last night and I am STILL the man-I-wish-I-was-a-good-bowler-but-I-love-it-anyway machine!
Out.

posted at 12:31 PM
Tuesday, May 06, 2003

Must be a full moon...

That's what my mom always says...

You know, these blogs are really interesting things.
I must admit, without them, I'd feel really out of touch with my friends who (as of yesterday) I no longer see on a daily basis.
But man, they can be quite intrusive! It's like a tangled web of DRAMA at the same time! Craziness!
As my grandmother used to always tell me... This, too, shall pass.

I have to rant for a minute or so...
I hate smoke detectors. Well, I hate them when they're BEEPING. You really can't HATE a smoke detector... anyway... I digress. Mine has been beeping for four days now, and there is no way for me to fix it! I've tried! Those things are impenetrable! It's just a battery, how difficult could it be? Well, let me tell you. First, the thing is 20 feet up there, on the ceiling. Like I can reach that. So I pulled the kitchen table over and finally was able to reach it to pull it down (so now it's dangling from the ceiling.) Pried open the battery compartment, and your typical layperson/resident cannot actually access this battery to replace it... it's down in there, and it's not coming out without some special tools (or special skills, which I do not have, clearly.) My God the thing just keeps BEEPING and BEEPING, and in no particular pattern! That's the worst! And then my sister (who is a firefighter) says that it's not even battery-operated! That battery is a back up! Hell, it's a back up to my back up! I've got another working smoke detector in the apartment! And the apartment is not that big! I've lived in the apartment (which is brand new) 3 months -- what cheap kind of battery are they using in those things? I see Lily flinch every time it beeps, poor little thing. The maintenance is supposed to fix it today. If he doesn't, I'm throwing myself out the window.

On a more POSITIVE note... My best friend MIGHT be moving to this area (from the wretched, awful, no-zoning-having Houston area). I'm keeping my fingers crossed, because we've heard this all before and it didn't work out. It would be great to have her so close, I miss her so much!

I have to go pick up my dry cleaning. It's like getting an all new wardrobe! How exciting!
(I've had no brain stimulation today... it's the little things that really get you going...)

Have a good evening everyone!
And remember, you never know EVERYTHING about something... you just know a little bit.

posted at 4:54 PM
Monday, May 05, 2003

To do, or not to do?

You know how when you're at work... you think of ALL THOSE THINGS you need to be doing... things to do at home, things to do to your car, errands to run... and then when you have a few days to do them, you STILL don't get it all done? Very frustrating. It's a struggle with me -- do I spend the day doing all that busy-stuff, or do I sit down, breathe, and just enjoy not HAVING to do them...? Well, I've been doing a little bit of both. I was pseudo-productive today. I balanced my checkbook, paid bills, did the laundry, dropped off the dry cleaning... (check, check, check...) And then I purposely balanced all of that with watching a movie, going for a walk, reading, laying on the couch, all that good stuff. What does it mean if you actually STRATEGICALLY PLAN your relaxation time? Not good.

Yes, there was a list with little checkboxes next to each item. I can't do anything without a list because I have no short term memory. What was I talking about....? Oh yes, it's all right there. Maybe I should start tattooing all the important stuff to my body like that guy in that movie... I forget the name of it now. "Bathe"... "Feed Lily"... "Tell everyone you love how much you love them"... "Compliment 3 people today"... "Censor inner thoughts before speaking"...

This is my favorite time of the year. The days aren't TOO hot, but the nights are absolutely wonderful. This evening, I took a long walk/run with my cousins. My 13 year old cousin beat me in a running race... and she was wearing flip-flops! What the hell is that? And I was wearing my new "I can run faster and jump higher now that I have these" shoes! Can you remember being 13 years old?

Today is Cinco de Mayo!
And Thursday will be Ocho de Mayo!

We'll see how tomorrow rates on the productivity scale. Hopefully not too high -- I'm going to take a drive tomorrow...need to clear my thoughts before The Big Day. No lists, no checkboxes, no deadlines, no planning. I promise.


posted at 11:59 PM
Sunday, May 04, 2003

What a lazy weekend... just what I needed.

Happy hour was excellent on Friday night (pics link). Thanks to April, Maili and Mauricio, Justin, Jonathan, Jeff, and Patrick for coming for the celebration. After Jack Astor's, a trip to Manhattan's and Stan's Blue Note with M&M... and another sighting worth the trip. ;) Thanks to Maili for hanging in there with and for me. What a trooper. I owe you one.

Saturday -- lots of shopping. Things I needed, and things I didn't need. Started shopping for a computer, which confused the hell out of me. I'm going to need some help on that one. Spent too much money, which made my spontaneous trip to NY virtually impossible. Then I spent the rest of the day reading and on the couch. Today is another lazy day. I'm trying to figure out how to spend my last two days of unemployment. Lots of reading to catch up on...maybe play a little golf... maybe a road trip? Not sure. We'll see. I definitely will not be bored.

I'm making this post today using a public computer -- at my apartment "business center". There's a guy sitting behind me... and it's making me very nervous. Wonder if he can read what I'm typing right now??? G.O. S.I.T. S.O.M.E.W.H.E.R.E. E.L.S.E. F.O.R. F.I.V.E. M.O.R.E. M.I.N.U.T.E.S......

;) I hope everyone had a wonderful weekend.

posted at 2:21 PM
Thursday, May 01, 2003

Shopaholic

Let's talk about something extremely shallow for a moment.
Hi. My name is Lauri. And I cannot walk away from a sale.
I have an insane number of shoes, a closet full of clothes (some with tags still on them!), and there are people in the world who have nothing. And I still can't stop. The guilt is consuming me.

I love George Carlin. When I've had a wacky day, I pick up "Brain Droppings" and read a few pages. My favorite parts of this book are his oxymorons, redundancies, and "things you never see".

Oxymorons
mandatory options
mutual differences
nondairy creamer
open secret
resident alien
silent alarm
sports sedan
wireless cable
mercy killing
business ethics (this one is my favorite)
friendly fire
genuine veneer
full-time day care
death benefits

Redundancies
Added bonus
Exactly right
Closed fist
Money-back guarantee
Revert back
Safe haven
Prior history
Young children
Time period
Sum total
End result
True fact

Things you never see
A butterfly with a swastika design
The Latin word for douche bag
Someone defecating in a church
A junkie with leisure time
A serial killer with a light-up bow tie
A shot glass full of carrot juice
A bum with matching luggage
Really interesting twins
Condoms with pictures of the saints
Two homosexuals who own a bait shop
A pimp with a low profit margin
A Rolls Royce that's more than 50 percent primer paint
------------------------------------------------------------------------------------
Smile today!
The weather is beautiful!
Count your blessings!
LB



posted at 10:53 AM